Studying Poetry
---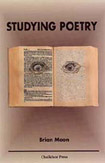 by Brian Moon
Year 10+

This book offers an approach to poetry study that differs from most other textbooks. The majority of poetry texts currently available are either anthologies, which generally offer little in the way of practical guidance for poetry study, or 'experience-oriented' resource books, which tend to emphasise performance and personal response over analysis. Many of these books make excellent resources, but in both types an attachment to Romantic conceptions of poetry often narrows the ways in which students are encouraged to explore poetry texts.

Studying Poetry openly emphasises analysis and inquiry, though without ignoring the connections poetry can have to individual and social experience. It argues that poetry is governed by conventions of thought and action that are embedded in historical and social contexts. By making some of these conventions explicit, the book tries to give students a clearer understanding of how poetry works.

The six chapters have a roughly sequential structure that leads from experience, through exploration, to theorisation; but individual chapters and sections can be used to fit in with preferred approaches and programs of study.

Chapter 1 introduces poetry study through shared readings of poems that students themselves choose. In part, this is an attempt to break down some of the antipathy that students may have built up toward poetry. But the chapter goes beyond the 'experience approach', to show that readings and performances of poems are themselves forms of analysis, and that such activities also function as interventions in the construction of meaning from poems.

Chapter 2, entitled 'What is Poetry?' invites students to investigate the 'nature' of poetry through a series of imaginative and enjoyable activities. This section of the book introduces the idea of poetry as discourse: that is, the idea that poetry is not merely a kind of writing with inherent qualities, but a set of practices (of reading, teaching, publishing, and so on) related to certain kinds of social action and interaction.

Chapters 3 and 4, 'Words and Meanings' and 'Forms and Functions', enable students to investigate the relationships between words, forms, meanings and the social functions of poetry. These chapters take a 'workshop' approach to the reading and writing of poems offering students practical methods for analysing and constructing poetic texts.

Chapter 5, 'Writing a Poetry Critique' provides models and guidelines for writing about poetry. This section will be especially useful for students in senior years who have to write formal analyses and critiques of poetry texts. It offers annotated examples of student critiques, as well as very helpful step-by-step guidelines that students can follow in their own writing.

Finally, Chapter 6 , 'Theories and Practices' introduces students to some theoretical accounts of poetry. It shows how ideas about poetry are related to social and historical contexts, and how specific critical methods are developed to deal with specific forms of poetry. The chapter introduces students to the thinking of some influential theorists, from Plato to Roland Barthes, relating their ideas to particular poems. The aim is not to turn students into 'theorists', but to show that there are different ways of looking at poetry, none of which is natural or timeless.

The work of the poets represented dates from the fourteenth century to the present day and includes familiar and less well-known texts. Poems by Geoffrey Chaucer, Sylvia Plath, William Shakespeare, Wilfred Owen, John Donne, Flora Podmore, Valerie Bloom, Philip Larkin, John Richmond, William Wordsworth, Wendy Cope, Katharine Susannah Prichard, Gerard Manley Hopkins, Bruce Dawe, Gael Turnbull, Jean 'Binta' Breeze and Andrew Marvell are amongst those included.
---

RRP $37.95
A4 160pp ISBN 1 875136 20 7

A Chalkface Press original

Cover details: Buch mit zwei Augen [Book with two eyes] (1964) Hubertus Gojowczyk; © 1964 The artist. All rights reserved.
---

Availability:

Australia:

State English Teachers' Associations
Retail and educational booksellers
New Zealand:

Chalkface Press direct
NZATE, New Zealand Association for the Teaching of English
USA and Canada: (This title published Spring 2001)

NCTE, National Council of Teachers of English
Other: Rights:
For translation or distribution rights enquiries please contact: Chalkface Press
Rights available for:

any language other than English - world-wide